What are the best tiles to use for underfloor heating?
Underfloor heating is fast becoming the serious contender to the traditional radiator to heat a room, available in various forms from piped water systems to thin electric cable underfloor heating.  Saving wall space and more efficient warming, good quality underfloor heating system is a great choice for extensions and refurbishments. We would like to share many of the queries we receive from customers on what are the best tiles for underfloor heating.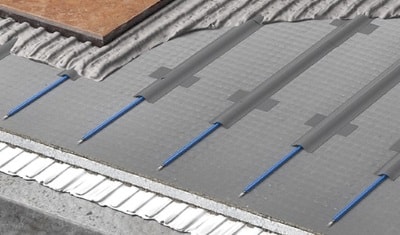 Can you use any tiles with underfloor heating?
The most common question we get asked, surprisingly it is very simple to answer – Yes!  All tiles, whether they are made of porcelain or ceramic can be used with underfloor heating but some are more suitable to certain situations.
Although tiles are a very robust and hard wearing floor finish they actually conduct heat very well so make warm up times quicker and most retain heat well, improving efficiency and keeping bills down.  So the choice available is immense, giving you the practicality of tiles with the luxury of warmth underfoot.
Which is better porcelain or ceramic tile?
There is no right answer to this but as mentioned above we would suggest using porcelain over ceramic in areas that are constantly wet like commercial showers because ceramic tiles are more porous.  Please have a read of a full guide at Warmup undertile heating.
Why not have a look at some of our new ranges like FS Star patterned floor tiles or Discovery large format porcelain tiles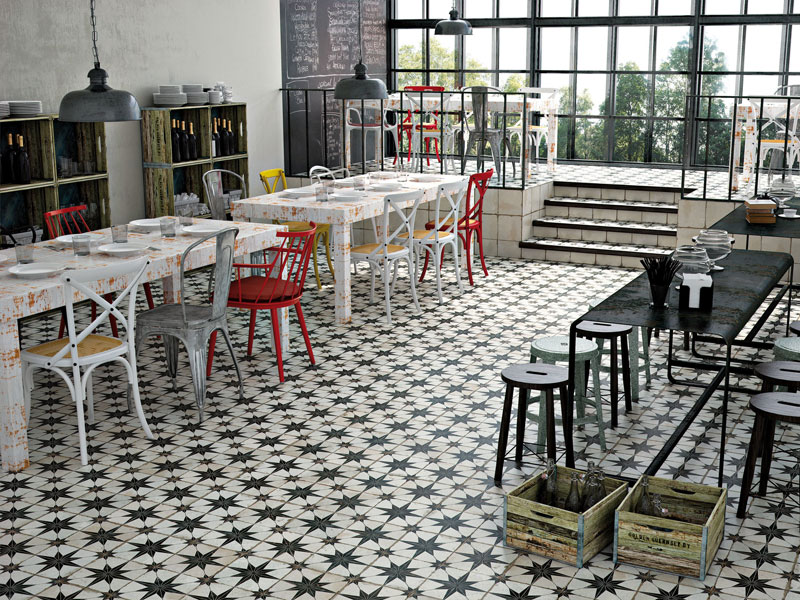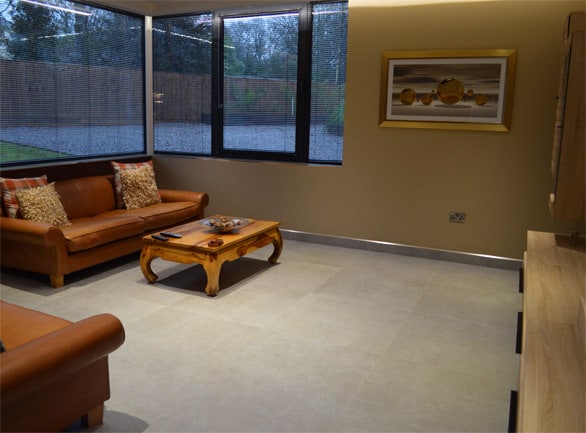 Are there any tiles you cannot use with underfloor heating?
Although all tiles are suitable with underfloor heating there are types of tiles that come with caution.
Quartz Tiles – These are made with a resin which can react to heat causing movement and in some cases curl at the edges. We would suggest checking with the manufacturer to ensure that they have been tested with your type of underfloor heating.
Honed & Filled Travertine Tiles – Natural travertine is formed with holes in an almost honeycomb structure.  In order to make travertine into a tile form the quarry will fill the holes with a resin.  When used with underfloor heating sometimes the resin can pop out in certain areas.  This can easily be refilled on the surface with a flexible grout or travertine repair kits.
If tiles are too thick does it it stop the underfloor heat coming through?
When choosing the best tiles for underfloor heating you will notice that some are thicker than others.  Tile thickness has no impact on heat output but sometimes tiles near 20mm thick can increase the heat up time.  Most internal floor tiles are approximately 10mm thick which is ideal for underfloor heating.
How good is underfloor heating?
In our opinion underfloor heating is the future.  Radiators use valuable wall space and some are not nice to look at. Also there are many other advantages:
Warms a room from the ground up so objects and people all experience the warmth rather than just hot spots near radiators.
With good insulation it is more energy efficient.
Fresher air in your home, traditional central heating circulates air and creates dust.
Luxury feel underfoot and body (if you like lying on the floor!)
Hopefully this guide has helped you and if you feel you still have questions why not check out some of our other blogs or give our friendly staff a call.
Why Choose Us?
Free Delivery over £249*
Free Sample Delivery*
10,000 Square Meters in Stock
Featured Product