10 HOT Tiles for Home to Make Your Visitors Jealous
There are so many types of tiles for your home (without even mentioning the different colours and patterns) that it can often be very overwhelming.
This confusion is only amplified if you've never taken on a tiling project before – what if I don't choose the right style?
Well, we're here to tell you that it's okay to be overwhelmed.  Just calm down, take a deep breath…
See, that feels better already, doesn't it?  To help you make a more informed decision, we've put together some of the hottest tiles to inspire your next home renovation.
Copse Wood Effect Tiles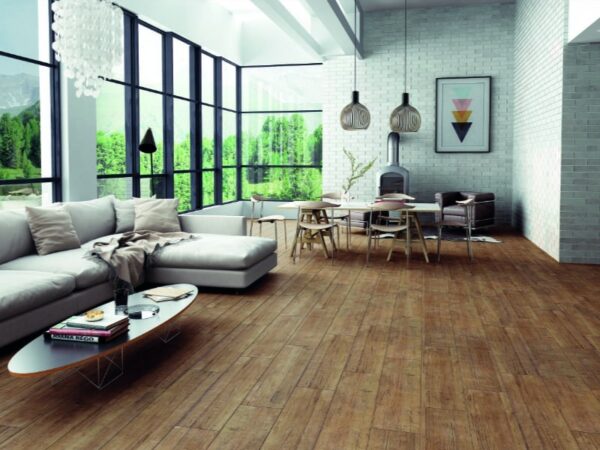 The natural beauty of wood has been used in homes for a very long time.  It's easy to see why though, the subtle tones add so much character to both large and small spaces.
The problem is that it requires lots of care and attention, but with wood effect tiles you negate that problem and get flooring that is durable, easy to clean and requires no maintenance.
The Copse Wood Effect Tiles are bursting with character.  A high level of authenticity comes from layering the surface with different shades and realistic wood knots.
Grande Marble Effect Tiles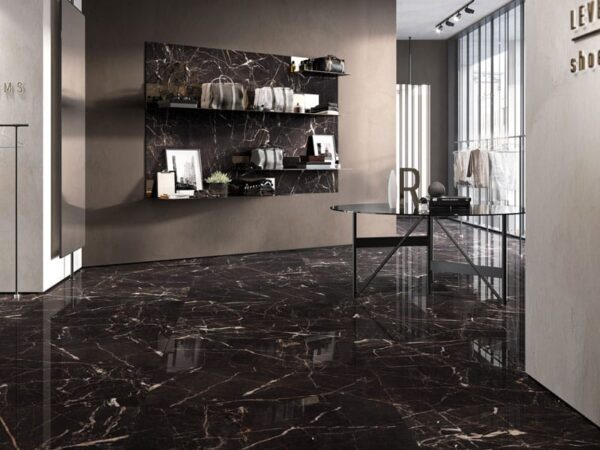 In keeping with the effect of natural materials, marble effect tiles are associated with grand palaces – or more recently in luxury hotels and spas.  However, using real marble in the home can be an expensive option.
What is it that's most striking about the material?  It's how the veining stands out against the surface.  The Grande Marble Effect Tiles provide the details in hardwearing porcelain for a fraction of the cost!
Axis Hexagon Tiles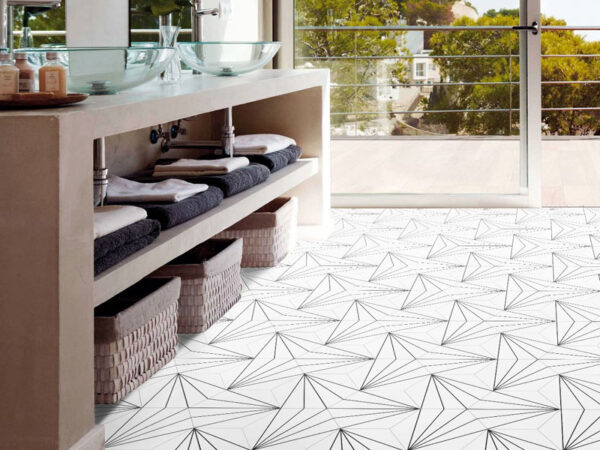 The hexagon tile has been on fire for quite some time now.  When you stand back and view the honeycomb effect, it can be something quite magical.  It just works and takes your interior away from the traditionally shaped tiles.
The Axis Hexagon Tiles has four lines on the surface.  What we love about this range is that you can create different patterns by rotating the tile.
Mirage Patio Tiles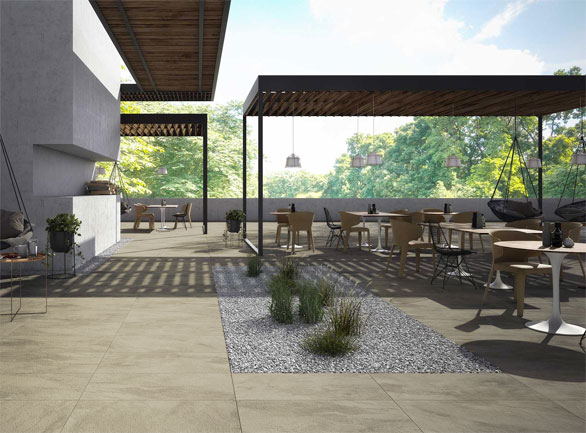 These days people are opting to use outdoor patio tiles to relax and catch a few rays (and drink a few cocktails).  Why?  Porcelain tiles require much less maintenance and are easier to clean than wooden decking, plus they look so much more elegant than concrete paving slabs.
The Mirage Patio Tiles come in various sizes and have muted tones, helping to create the concrete effect.  At 20mm thick, these tiles can withstand heavy-duty outside activities while having an R11 non-slip rating for peace of mind.
Galapagos Mosaic Tiles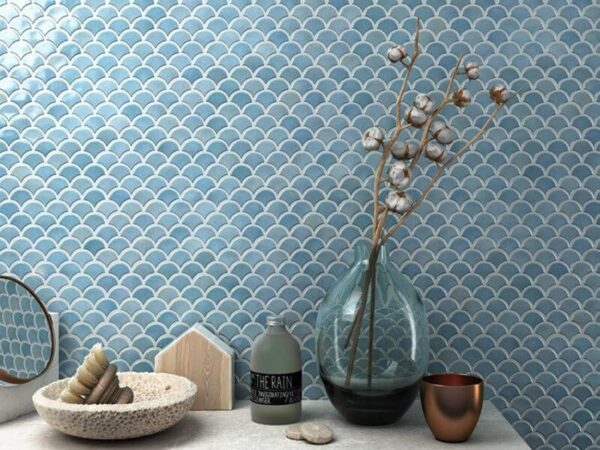 Popular in the 1920s Art Deco movement, the influence of fish scale tiles can be seen throughout middle eastern culture. With so many colours to choose from, it is a firm favourite among interior designers.
The Galapagos Mosaic Tiles shine bright when hit by the light and come in a black, white, and a mix of blue and green hues – colours borrowed straight from the ocean, perhaps?
3D Ridge Tiles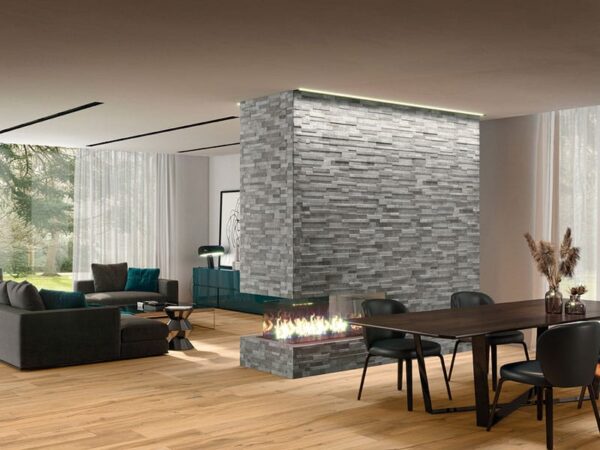 Split face tiles are getting more and more popular.  These mosaic tiles use smaller pieces of stone to create interlocking panels with different depths.  The 3D effect from these tiles helps to create an on-trend outside space or looks equally as good as a feature wall or around a fireplace.
The Geo Split Face Collection can be used both indoors and outside.  There are 16 colours options which will suit a range of design schemes.
Mayfair Stone Effect Tiles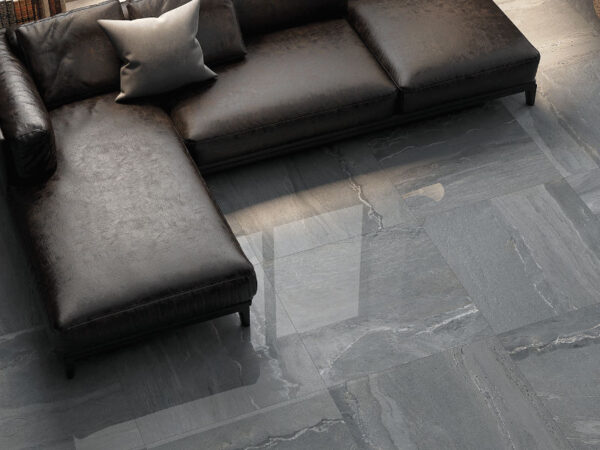 Sometimes a nice subtle stone effect is all that's required.  This can create a 'blank canvas' to help really showcase your home interiors.  Likewise, using large format tiles will create the illusion of space, whether you're using them in an open plan or small area.
The Mayfair stone effect tiles have a high variation of shading which replicates the look and feel of natural stone.  A tough porcelain floor tile in a matt or gloss finish that can be used with underfloor heating.
Weld Tiles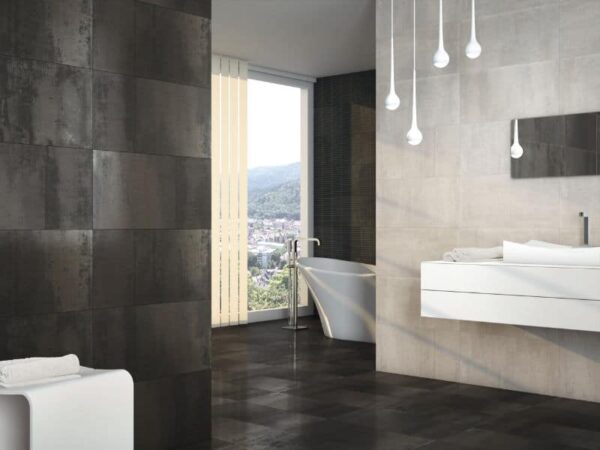 Metallic effect tiles can be used to create so many different styles. Think industrial, minimalist, urban, and retro.  They also have a fabulous overall effect, as each tile can change depending on how the light strikes its surface.
The Weld Range is available in copper, steel, and iron effect. Being a rectified tile means you can butt it up nice and close with small grout joints.
Pebble Mosaics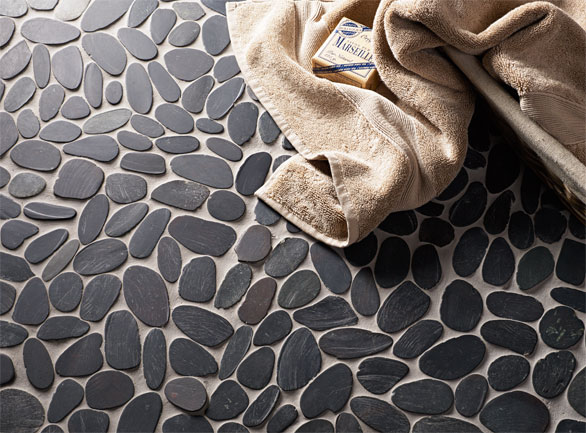 Adding a slice of nature into your living space can provide an organic feel, creating a soothing environment for you to relax and unwind.
The Pebble Mosaics range exhibit a vast array of flattened stones with natural variations in colour and pattern. Attached to a mesh back, these can be seamlessly linked together so that they look great in both large and small areas.
Deco Terrades Grafito Tiles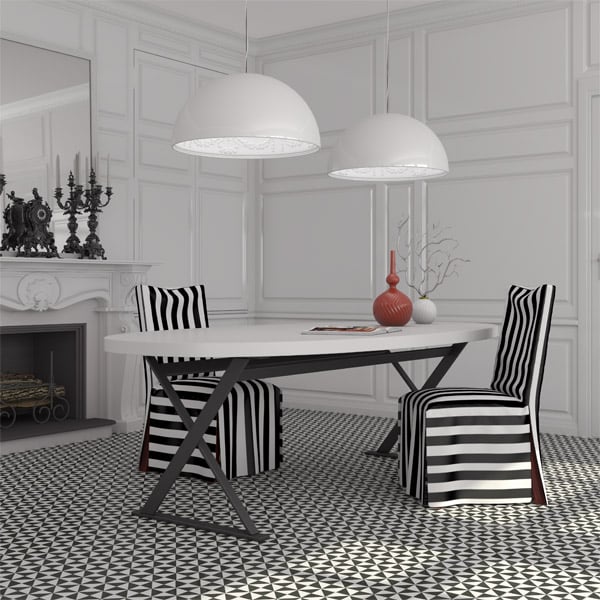 Tiles with an Art Deco vibe help to create a vibrant, colourful and modern space. The patterns lift an interior space by utilising lots of quirky patterns and designs. But what if you're looking for something a little bit more neutral?
The Deco Terrades Grafito fall into the popular monochrome style, and apart from making a lovely photo opportunity, these fit in with almost all interior styles.
As you can see, there are lots of beautiful tiles for home use. Whether you're shopping for an immediate project or just planning for the future, we hope this blog has helped.
The hard part is making a decision, but we hope this blog has given you some inspiration. 
Which Type of Tiles is Best for Your Home?
There are many different tiles that will look great in your home.  The most popular wall and floor tiles are made from either porcelain or ceramic.
As to what colour or style, it really does depend on what interior you're going for.  You may want to check out our blog on Top Tile Trends for 2021.
A good way to decide on what tile is best for your home is by ordering a few samples to see them in situ first.
Why Choose Us?
Free Delivery over £249*
Free Sample Delivery*
10,000 Square Meters in Stock
Featured Product