2021 Top Tile Trends:
What's Next According to the Experts?
As we say goodbye to one of the strangest years in recent times, then 2021 could be a good year to renovate certain areas of your home.
When our buying experts got together, they were in agreement that there are plenty of styles which will remain 'on-trend' for many years, plus a few surprise entries.
So, whether you are looking to replace your wall or floor tiles in the bathroom, kitchen, or any room this guide on top tile trends for 2021is a great place to start.
Top Tiles Ranges For 2021
Metallic Imitation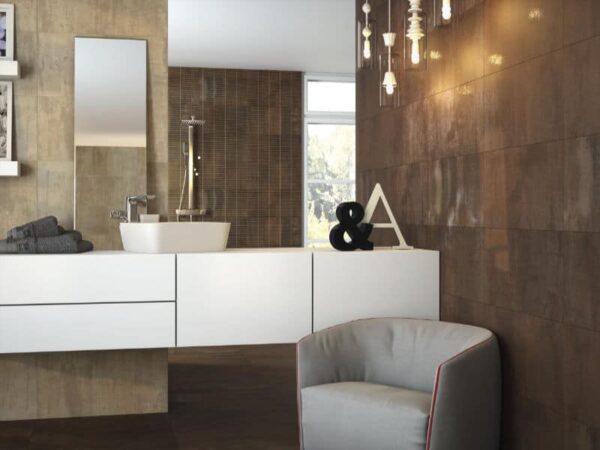 Think artsy loft-style apartments.  That's where the aged metallic style stems from and this type of tile has been gaining popularity for quite some time.
Bronze metal effect has certainly stood the test of time. When you add bronze or copper to a room it introduces a warming atmosphere.
On the other hand, the darker tones that replicate graphite or iron (for example) can contrast very well against a white bathroom suite – instantly providing a modern style.
That said, there are many creative ways to use metallic tiles.  The shimmer from the light, paired with the right interiors can also create industrial, minimalist, urban, and retro interior.
Hexagonal Tiles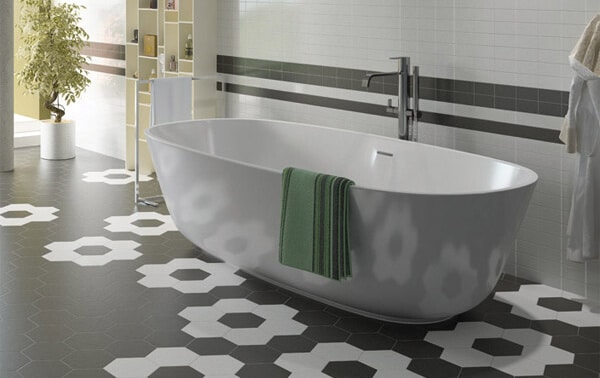 If you want to get away from the square, rectangle or metro tiles then why not introduce some hexagon tiles into your home.
The 'honeycomb effect' isn't going away anytime soon, with lots of new and quirky patterns and textures coming out.  Choose a single colour for that minimalist style or mix a few different colours to create something truly unique.
The hexagonal tile can be laid out in so many ways, but you can be sure that they will look great, reinvent your room, and create a warming atmosphere.
Use as a feature (around the shower) or as a kitchen splashback. One thing is for sure though. There are plenty of beautiful and intricate designs which will provide a 'stand out' effect.
Marvellous Marble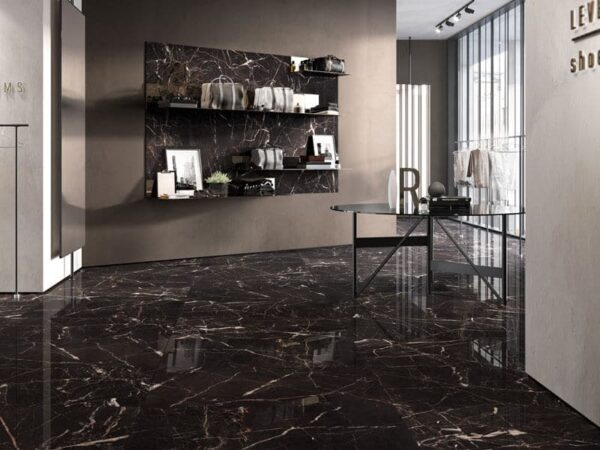 Whether you're going for real marble, an imitation, black marble, or a lighter shade they will produce an elegant and luxurious interior.
Marble is extremely versatile. It can be used on the wall, floor, or the kitchen worktop. Many interior designers recommend using two contrasting shades to harmonise your space while providing a touch of elegance at the same time.
With ever-improving technology, a high-gloss finish on a robust porcelain base can easily replicate that marble effect at a fraction of the cost.
For marble effect with realistic veining, take a look at the Grande porcelain tiles.
Wood Effect Tiles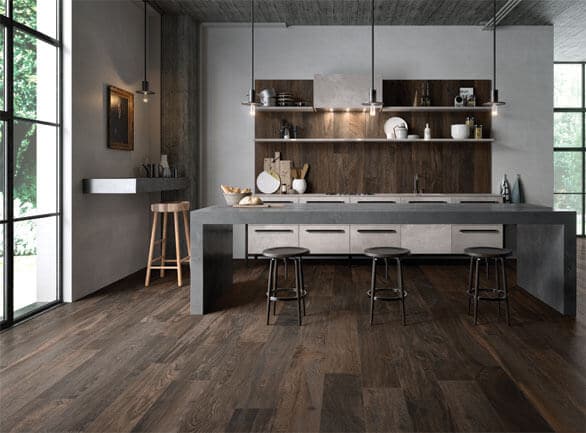 Wood effect tiles are bang on trend and create a subtle style that can create a warming atmosphere.  We've seen a big push towards these 'effect' tiles as we discussed above.
The obvious reason for this is cost.  Not only is hardwood expensive but it also requires regular maintenance to keep it looking fresh.
Again, we have to bow down to the printing technology. Wood effect tiles look realistic and require minimal upkeep. More and more people have started to lay these in creative ways including feature walls or in a parquet style.
The great thing about the 'effect tiles' is that you can easily contrast wood, marble, and stone to replicate a natural environment at an attractive cost.
Popular Outside Tiles for 2021
Now the reason we wanted to keep this about Top Tile trends for 2021 is so that we could talk about the whole home rather than just the bathroom or kitchen.
And what better place to move onto next than the often undervalued outside space?
20mm External Patio Tiles
In 2020, we saw a huge rise in popularity towards 20mm Patio Tiles.  These offer the homeowner excellent versatility. At 20mm thick they can be used as a structural paving slab that will easily handle the sheer amount of traffic associated with outdoor culture.
Made to closely resemble the colours and textures of indoor porcelain tiles to allow the homeowner to achieve a continuous flow into the garden.
And with the summer getting warmer, we're going to be spending more and more time outside. If you decide to update your outside space in 2021, then we'd love to see the photos.
Popular Bathroom Trends for 2021: Target Tiles Top Pick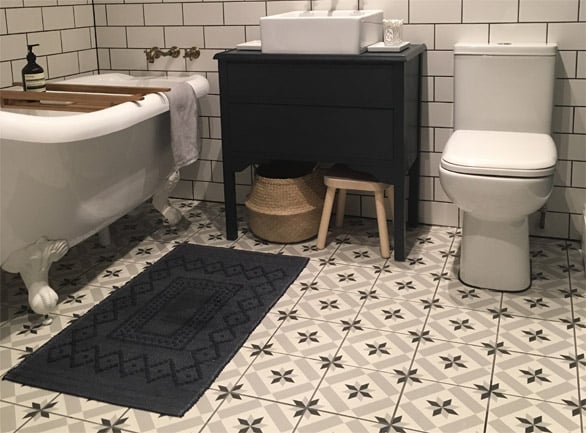 Patterned tiles, either for full coverage or as a feature, is going to be very popular.  With all the quirky, colourful patterns around this style will bring a lot of interest and personality to your bathroom.
"A floor tile that is bursting with life works really well against a plain coloured wall tile or bathroom fixtures," says Andrew Rutter, CEO.   "For instance, we've had a lot of interest in our Deco Calvert 200x200mm range which really shows the demand for quirky patterns in the bathroom."
Popular Kitchen Trends for 2021: Target Tiles Top Pick
A splashback can either make or break a kitchen design.  Although the more traditional plain tile splashback still looks great more homeowners want something to create a focal point.
"It's definitely more about 'the interest'", says Gavin Buckner who is the head buyer at Target Tiles. "That could be using a pattern such as a herringbone but we've definitely seen more and more people experimenting."
After a brief debate at Target HQ, we've opted with a nice 'fish scale' mosaic tile. With a tile collection like the Galapagos, not only do you get an interesting shape but plenty of colour options to create some interest.
At the end of the day, you can listen and take advice from people in the trade on top tile trends for 2021, but personal preference should always be the deciding factor. 
Our advice is to do some research on the latest trends and adapt them to suit your own style. After all, it's you and your loved ones who will be looking at them day-after-day.
Why Choose Us?
Free Delivery over £249*
Free Sample Delivery*
10,000 Square Meters in Stock
Featured Product