How to Use Metallic Effect Tiles in your Home?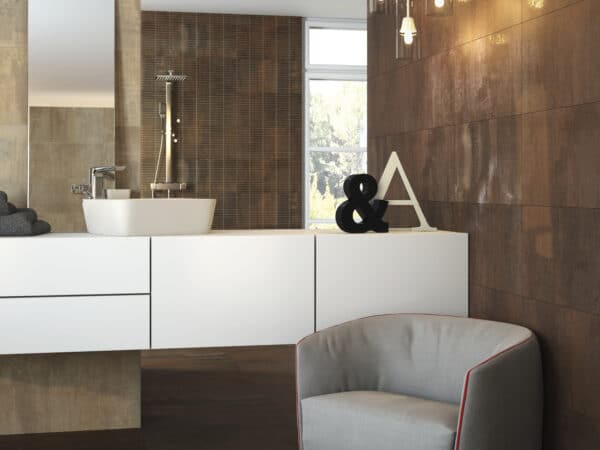 Metallic effect tiles are a sure way of adding instant character to your home.  Although this tile style has been a popular trend for a long time, it has especially been a firm favourite in recent years for people looking for that modern, industrial look.
There are so many different options of metallic tiles which can be used in many different ways and situations.  The only real limit is your creativity!
So, to help you out we've put together this handy guide on how to use metallic effect tiles in the most common places in your home.
Too Many Tiles, So Little Time 
As the name suggests, these types of wall and floor tiles have been designed to replicate the qualities of metal – whether that's bronze, silver, graphite, or iron.
Obviously, the whole tile isn't made from metal (think of the nightmare logistics) but has a metallic covering on a porcelain or ceramic base. Quite often, you'll get a beautiful shimmer which only adds to the personality of the tiles when hit by the light.
Some will take on an aged, distressed style, especially useful if you're going for an industrial vibe in any room of your home.
Metallic Effect Tiles in the Bathroom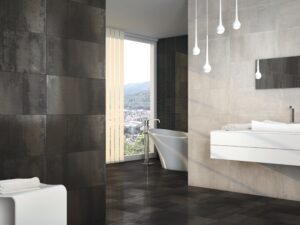 Your bathroom is a place to relax and unwind, so introducing some metallic effect tiles (such as bronze or copper) can instantly add a warming atmosphere.  The distressed look of our Weld Copper tiles would blend in nicely with both rustic and contemporary settings.
The reflective qualities of metallic effect tiles are something really special when used in the right way.  Something as simple as complimenting your new metal tiles with a few spotlights and some mirrors.  Not only will this look fab, but will help make a small or narrow room feel spacious.
Just humour me for a moment. Imagine tiling your shower cubicle in moody graphite which is contrasted beautifully against a silver shower unit.
Instant glamour, every morning!
A Metallic Kitchen Splashback Perhaps?  
Is your dull kitchen just screaming out for some colour and personality?   If you listen very carefully (late at night or early in the morning) you can hear a faint voice saying "Inject me with some personality."
Well, it could be time for some metallic kitchen tiles.
If you have a Modern Style kitchen going on then why not utilise your favourite metal tiles – it could be copper, bronze, silver, gold, or black (we won't judge) – as a funky splashback.  It's a feature that looks great and will certainly catch the eye when entering the space.
However you decide to use your new metallic effect tiles, we hope that we've got your creativity flowing.  Our blog is always being updated with new and exciting content, so why not check it out? 
Related Content:
Why Choose Us?
Free Delivery over £249*
Free Sample Delivery*
10,000 Square Meters in Stock
Featured Product