Choosing the Right Tiles for Your Kitchen Splashback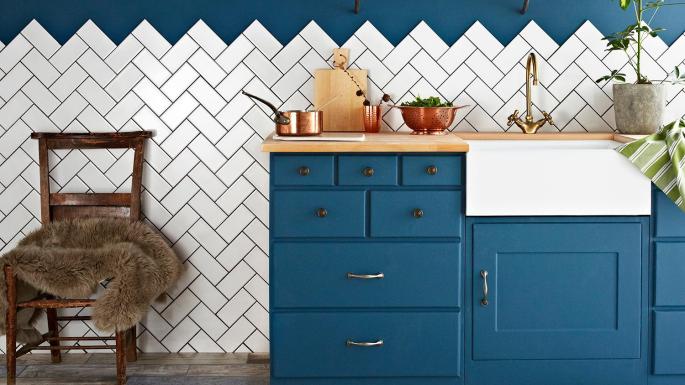 Welcome to a busy kitchen, something you know too well, right? Think of boiling kettles, running taps, splashes of your famous Bolognese sauce, not to mention lots of breakfast, lunch, and dinner prep.
What we're trying to say is that in a kitchen there are plenty of ways to splash stuff on your walls.  And unless you fancy repainting every few months, it might be time to invest in a new kitchen splashback.
In this blog, we're going to tell you why a kitchen splashback is essential plus get some style ideas.
What is a Kitchen Splashback?  
Kitchen splashes are a way to protect your walls while keeping the kitchen looking stylish and elegant.
Essentially, a kitchen splashback is a selection of tiles that fill the gap between your worktop and kitchen cupboards or directly behind a sink.
In most cases, a splashback will consist of either porcelain or ceramic tiles but some mosaic tiles will look great too. The main thing to keep in mind is that they are hardwearing and easy to wipe clean.
Ideas for Kitchen Splashbacks 
There are endless amounts of tiles that would look great as a kitchen splashback. Just like with all interior design, there is no right or wrong answer.  It all depends on personal preference and what design scheme you have in mind.
Below are some ideas to give you some inspiration:
Metro Tiles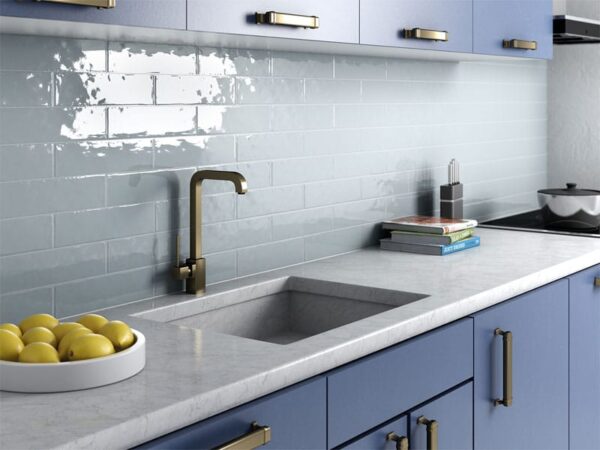 You'll no doubt be familiar with Metro Tiles (which are also referred to as subway tiles) and seen them used in many kitchens.
These tiles not only have a timeless design but are very easy to wipe clean. You'll find metro tiles in lots of different colours, ranging from neutral to the… shall we say, more outlandish.
Rhombus Wall Tiles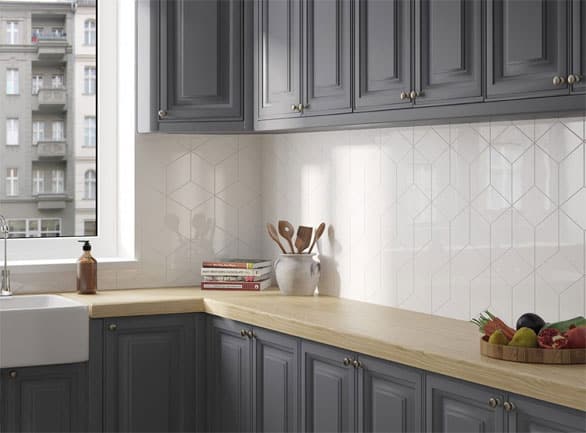 A collection like our rhombus tiles will give your kitchen a modern, geometric vibe.
These diamond-shaped tiles have an eye-catching gloss finish with a flat surface. Perfect to introduce into a contemporary design scheme.
The shape of the Rhombus wall tiles gives you the option to produce lots of different layouts.
Thicket Wall Tiles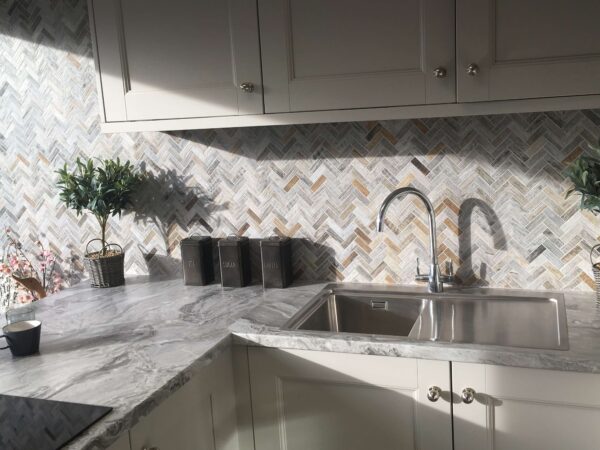 The Thicket is a style that mimics distressed driftwood.  It uses 35 unique patterns to create a realistic wood effect. The mix of random tones in this collection really helps to breathe life into the room.
Use these tiles for the full wall, as a splashback, or placed behind your hob.
Hexagon Wall Tiles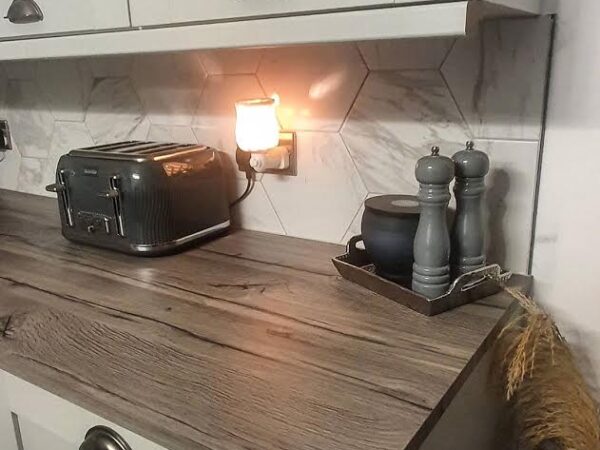 A hexagonal splashback will provide so much fair.  Not only is the honeycomb shape 'on-trend' but there are so many quirky designs and textures.
Looking to keep things neutral?  Don't worry, there are plenty of plain options as well.
Crackle Glaze Wall Tiles
 
 The Crackle Glaze tiles would make a perfect choice for a kitchen splashback. Similar to a metro tile but with slight cracks running throughout the surface to give an aged appearance.
The gloss finish makes these tiles easy to wipe clean.
Glass Splashbacks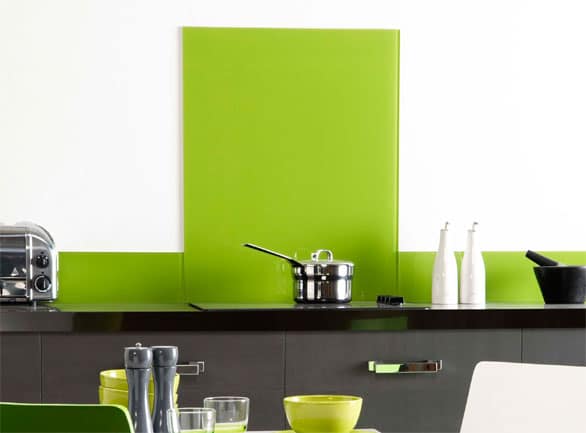 A glass splashback behind your hob can add beautiful contrast to your existing tiles. One of these can really help break up the monotony of one tile style.
These are easy to wipe clean, plus a glass splashback will help bounce light around the room.
How to Fit Kitchen Splashbacks? 
As we mentioned earlier, a kitchen splashback is just a selection of tiles arranged around your worktop or sink.  You can install these tiles just like you would when tiling a wall.
We've broken this process down in our DIY Guide: How to tile a kitchen splashback.
When it comes to glass or graphite splashbacks, it will probably be worth hiring a specialist. For this type, it's important to have the right adhesive as well as cutting equipment to get the best results.
Other places to use a Splashback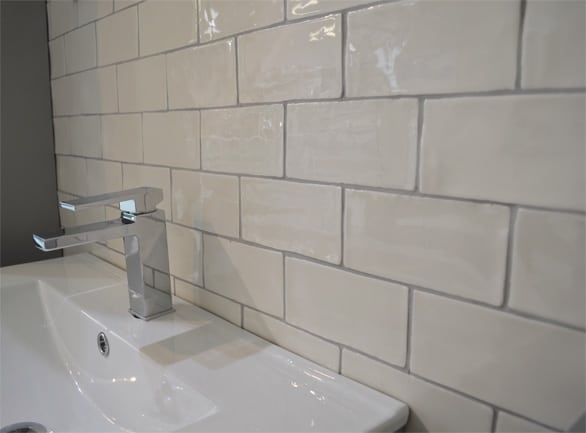 Bathrooms and toilets are other common places where a splashback will come in useful.  The water-resistant properties of tiles offer excellent protection, especially in rooms with high humidity.
Does your kitchen need a lift? If so, why not consider browsing our kitchen tile range for some great splashback ideas.
Why Choose Us?
Free Delivery over £249*
Free Sample Delivery*
10,000 Square Meters in Stock
Featured Product