Outdoor 20mm Porcelain Paving slabs
Patio 20mm porcelain outdoor floors tiles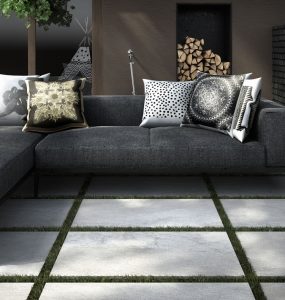 Until recent times, porcelain tiles were only produced with a relatively thin composition of around 9-12mm, meaning they had to be installed onto an adhesive or cement/mortar base and most only suitable for internal applications. Now available are the  thicker 20mm paving slabs Tiles that can be used as structural paving slabs outside, meaning that they can be dry-installed without the need for adhesive or fixed on a pedestal system. The vast amount of these tiles come in the same texture and colour as the every day porcelain tiles that would be used inside your home so you can now have the same looking tile inside and outside you house.
Why use Porcelain Paving slabs Tiles with a thickness of 20mm is they guarantee a high resistance to stress and loads. Are Frost-proof, resistances to chemicals and atmospheric agents, easy to clean, making them an ideal choice for residential and commercial outdoor spaces and colour match your internal tiles.
You also have the versatility of 4 fixing methods on the outside area meaning there is now no reason to not install the beautiful looking ranges available of 20mm Exterior Paving Tiles  for that Continental look.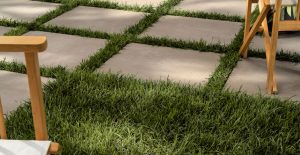 Dry Installation on Grass
For gardens and green areas, this type of installation makes it possible to create pathways and add a personal, stylish touch to common areas. The installation procedure consists of preparations of the bed and application of a layer of gravel, on to which the slabs of 20mm will be placed. The gravel bed grants more stability and compensates for any differences in level. It is recommended to leave an enough gap between the slabs to allow grass to grow through.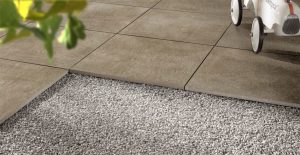 Installation on Gravel or Sand
Simple and rapid. With dry installation on gravel. There is no need to use adhesives or grout. After installation, the surface can used immediately. The solution also facilitates drainage of water and offers the possibility to remove the slab and use it elsewhere.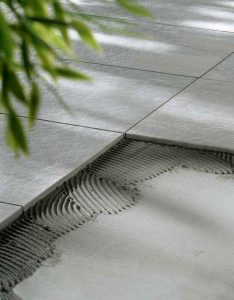 Conventional installation on adhesive
 For environments that are subject to traffic or heavy loads, slabs 20mm can be installed on a screed with adhesive, using the conventional tile installation method. For an optimal installation, make sure the screed is perfectly levelled. We recommend using Ardex X7G with our outside Patio Tiles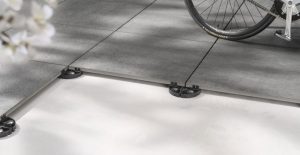 Raised Installation on supports
Easy to install and immediately transitable, raised installation creates an underlying gap between the upper surface and the substrate that can be easily inspected, this allows for effective water drainage and offers space for electrical equipment and plumbing facilities. This installation is suitable both for existing floors and new screeds. Aesthetics and practicality in a single product.
We stock 6 ranges of outdoor tiles Volcano , Upnuance , Zinc , Mirage , Luna , Montagne or view the entire range Here
pointing your patio tiles has been made easy by the unique pointing product pavetuf
Our sales team at Target Tiles are knowledgeable in the vast range available and can guild you through the whole process so why not give us a call on 023 92372788 were a warm welcome awaits you.