Using Adjustable Support Pedestals
for Outdoor Tiles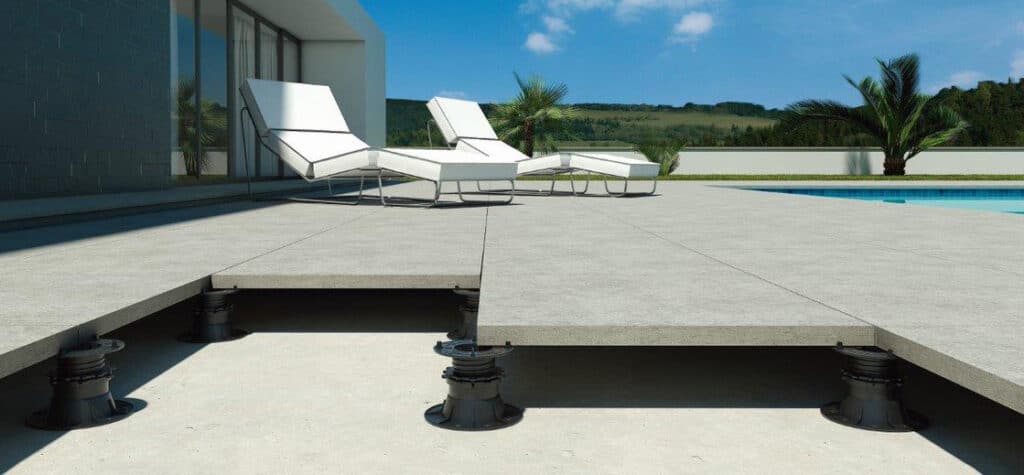 Have you been thinking about switching your traditional outdoor paving slabs for some patio tiles? Well, the good news is that you've landed on the right page. Adjustable support pedestals are a perfect choice for outside tiles, especially when you want them to be slightly raised or if the original substrate is uneven.
So, let's begin our journey into the wonderful world of adjustable support pedestals and how they could be just the thing for your next tiling project.
What are Adjustable Support Pedestals, though?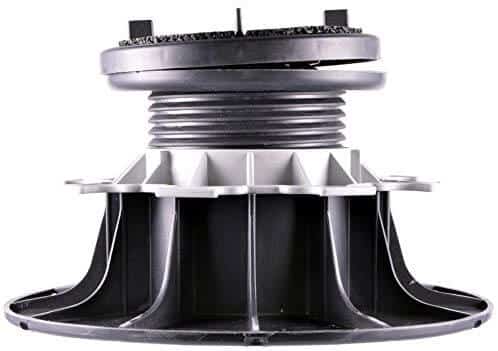 Adjustable support pedestals (AKA, pedestal pavers) make up a system so that you can lay large format tiles and paving slabs without using adhesive and grout.
The beauty of this type of suspended system is that no mechanical fixings are required.  It's the weight of the outdoor tiles which hold everything in place.  We've even seen wooden decking laid using this method.
Okay, so How Do They Work?  
The pedestals have a telescopic stem which can be wound up and down to reach the desired height.  In our range, we have various sizes that can provide a height of between 37 – 75mm.
Made from injection moulded polypropylene, they will stand up to the harsh and demanding outdoor conditions.
Once in place, the tile supports can still be adjusted without the hassle of removing any tiles. You'll find the adjustable support pedestal tool a God-send to quickly and easily level the floor.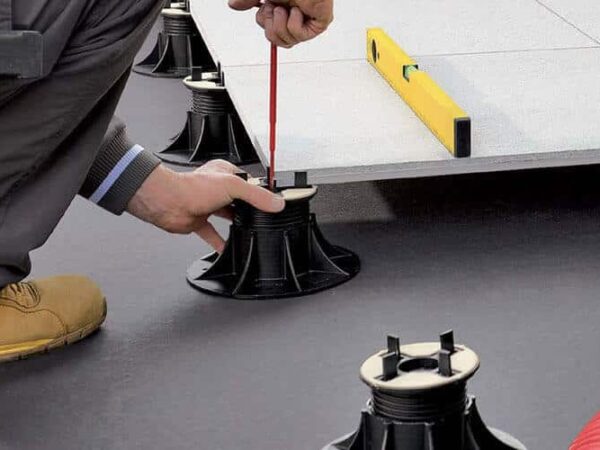 The Main Benefits of Adjustable Support Pedestals?
Creating a Void
By using adjustable support pedestals you will naturally create a void beneath. This gives any rainwater the opportunity to run between the tiles and under the slabs.  By reducing the amount of rainwater sitting on the tile surface it helps avoid any unnecessary slips.

The area beneath the tiles is a perfect place to run any pipes or cables, keeping them hidden.  Also, if you have a hideously uneven floor then it can easily be made level simply by adjusting each pedestal.
Handy Positioning Lugs
On the surface of the pedestal pavers, you'll notice four positioning lugs. It's these little lugs that'll help to create a consistent gap and paving line quickly without messing around too much.
Adaptability
We've already mentioned that adjustable support pedestals can be used for different kinds of tiles, as well as wooden decking.
They are also ideal to use on different kinds of surface like roof terraces, patios, and verandas.  Again, when it rains the water can pass through the tiles and drain away using the existing system.
Also, you can trim the baseplate using a hacksaw or electric saw.  This provides a straight edge which can be offered up to external walls.
Other ways to install your Outdoor Patio Tiles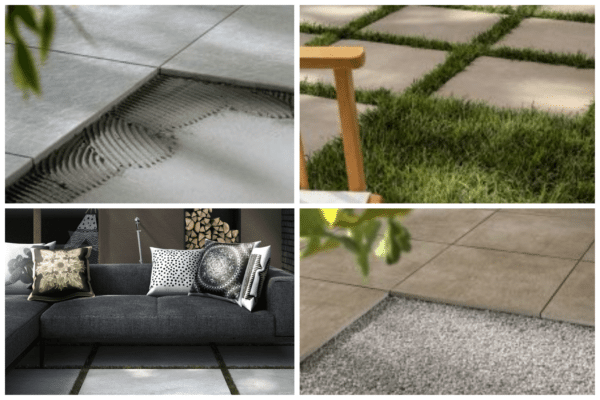 It's also worth mentioning that there are a few other ways to install your porcelain paving slabs.  These include dry installation on grass, over gravel or sand, or the more traditional method of using adhesive.
Okay, we've come to the end of our time together.  Don't worry, there's plenty more help and advice where this came from.  But hopefully, now you understand adjustable tile support pedestals a little bit more.
If you're looking for any tiles for your outdoor project, then check out our 20mm patio range. 
Why Choose Us?
Free Delivery over £249*
Free Sample Delivery*
10,000 Square Meters in Stock
Featured Product