SUMMER SALE NOW ON!
Get Your Patio Summer Ready! 
With Spring on our doorstep, it is important that your Patio is looking up to scratch! If you're looking for ideas on where to start, or how to lay these tiles, you've come to the right place! We have trained staff ready to answer any questions, allowing you to focus on making your dream garden design.
Adjustable Support Pedestals
But what are Adjustable Support Pedestals?
Adjustable support pedestals are designed to make a system capable of laying large format tiles, without the need of using adhesive and grout! The beauty of this product is that the weight alone of the patio tile holds everything in place, leaving a simple and easy to use design. It is even possible to lay wooden decking on these pedestals, they truly are a god-send!
Another key feature of these pedestals is that they are very easy to pickup, you can lay messy cables and pipes underneath, and you can repair any damages with a breeze, stopping the need to work out how much grout is needed.
That's Amazing! So How Do They Work?
The pedestals have a telescopic stem which can be wound up and down, reaching the desired height. There are various sizes available, all available to suit your needs varying between 37-75mm. Being made from injection moulded polypropylene, they are sure to stand up to the harsh and demanding outdoor conditions!
Once these have been placed, they can be easily adjusted without the hassle of removing any tiles. You'll find the adjustable support pedestal tool to be a very handy piece of kit, which quickly and easily levels the floor!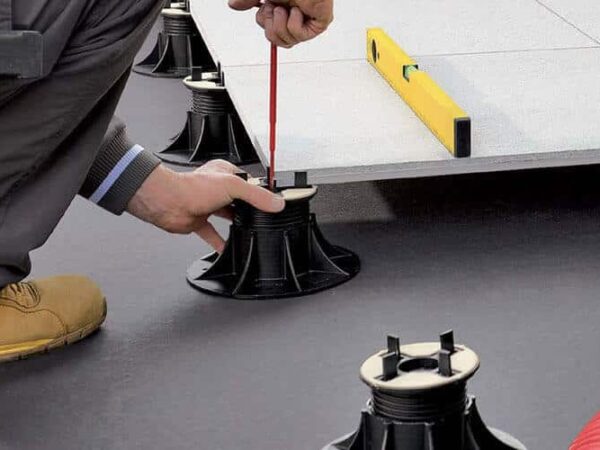 We have a more detailed explanation of adjustable tile pedestals, which can be found here!
Grouting Patio Tiles
When installing any outdoor tile, it is important that you prepare a solid concrete/cement substrate. Alternatively, you can use a different fitting system such as the pedestals above.
To get started, it is important that you use a flexible powdered tile adhesive, as well as a cementitious grout. For a cement based grout, we highly recommend Bal Micromax2 which is suitable for outdoor use. This grout is rated as "no efflorescence" ensuring that once the tiles have been placed, no moisture is lost and prevents a chalky white residue appearing on the surface.
To start, use a suitable grout float. Holding this at a 45° angle, apply enough grout to completely fill all joints within the workable area, and smooth the grout over the surface of the tile. This can be done doing diagonal strokes until all gaps are completely filled. If there is a line appearing in the grout, this means that there is not enough grout within the joint to completely fill it. Simply repeat the above steps until this is achieved.
Ensure that all excess grout is removed from the surface of the tile before continuing onto the next tile. Once all of the joints between the tiles are grouted, allow approximately 15minutes for the grout to dry (this is at 20°C), or when the grout is touch dry but not fully set/hardened.
Finally, use a dampened sponge to clean the surface diagonally to the grout lines. It is important that the sponge is rinsed frequently with clean water. Try to avoid putting too much pressure on the joints, or over washing them, otherwise the pigment may fade leaving white areas.
Conclusion
Well we have finally come to the end of this guide, we really hope this helps you achieve your dream garden! Please feel free to contact us with any technical information, as well as general guidelines to outdoor tiling!
All patio tiles are currently on sale to help you achieve high quality, at a low price! 
Why Choose Us?
Free Delivery over £249*
Free Sample Delivery*
10,000 Square Meters in Stock
Featured Product