The Psychology of Colour in the Home
The Psychology of colour in the home
We are often asked for help when our customers can't decide on colour's for their home, especially for a permanent covering like wall tiles. There are some elements when choosing a colour scheme that have been proven to provoke certain moods in a human, like red has traditionally been associated with danger. Read on for our guide to the Psychology of colour for the home.
How does the colour of a room affect human behaviour?
You would think the colour of a room is purely aesthetic but many professionals believe that the psychology of colour and certain colours can effect your well being.
Although there are no proven facts, tests have shown that warm tones like yellows and oranges stimulate conversation!
What room colour's affect your mood?
It is often said that warmer shades of the colour pallet like reds and oranges can increase blood flow and heart rate.
This would explain why red is linked with anger and activity. Whereas the cooler colour's like blues and greens have the opposite affect. These can promote calm and tranquillity.
What tile colours to use in a bathroom?
Traditional colours of tiles and paint in a bathroom are white and blue. These are often linked with cleanliness and calm.  White tiles will never date and co-ordinate with many vanity unit colours. We would always suggest looking at white tiles first, but there are a whole range of different tiles to choose from.
With current technology there are also many white feature tiles that can make a flat white wall look amazing.
Check out some of our white feature ranges like wave wall tiles shown below.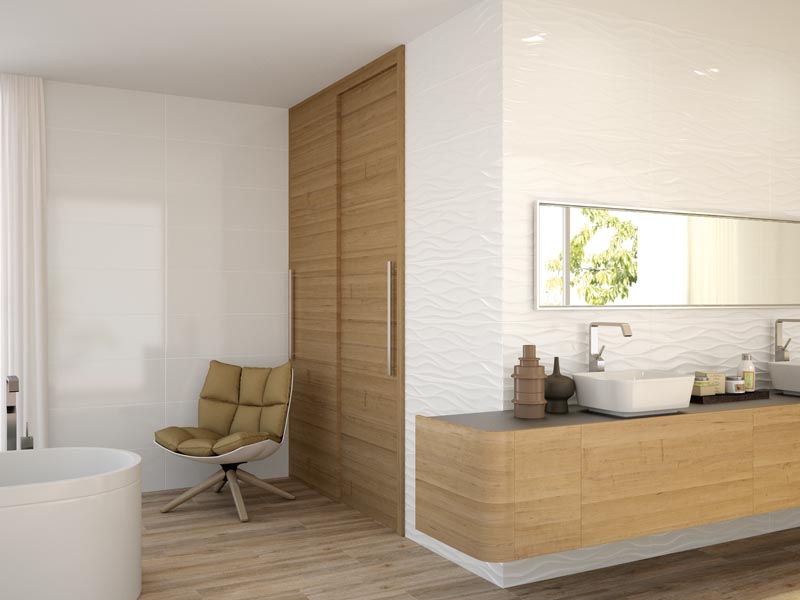 Beige and grey wall tiles are also popular tile colours for a bathroom.  We also suggest using a darker contrasting colour on the floor to tie in the two.
If you need to make a room look bigger stick to light colours and larger size tiles. There are some tricks that you can use to give different illusions.  Read a full guide at BBC homes.
What tile colours to use in a kitchen?
Have you ever noticed that restaurants have a red or orange colour scheme? This is because these colours are proven to stimulate our appetites!
We wouldn't suggest going this far but first decide on your unit and worktop colour. Once you have these you can order samples to offer up to your units.
Popular on trend kitchen tile colours are greens and neutral shades like pale grey and off white. These colours are unobtrusive and are good to be surrounded by for long periods. A good idea when slaving over a Sunday roast! It's also increasingly popular to add a splash of colour with a tiled splash back statement piece.
Check out one of our new ranges called Ranch shown below. It comes in this calming green shade and has a bevelled edge giving a sleek look.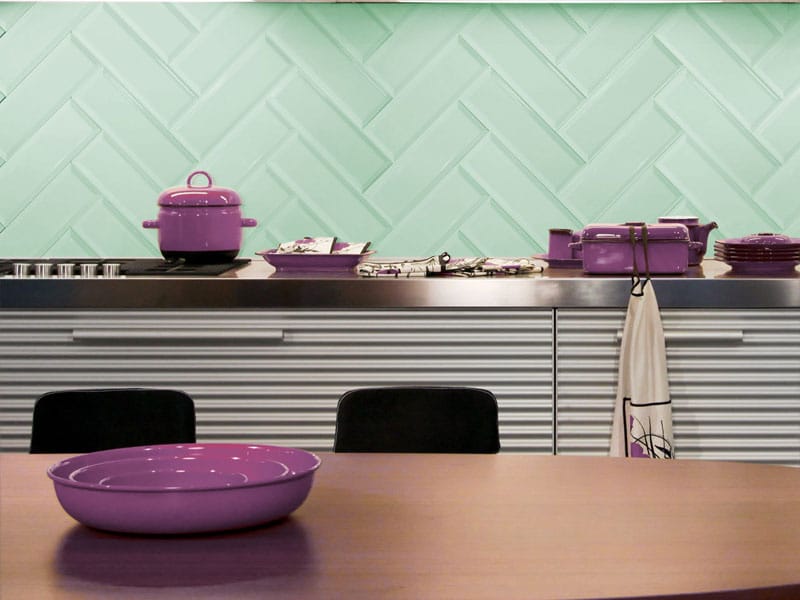 In summary, we would always suggest trying to make a mood board for your room.  It's easy to see if colour's will work together if you have a piece of all the main items in eyesight.
Or if it is a feature of the room like a copper bath or your favourite arm chair make sure all the other colour's co-ordinate.